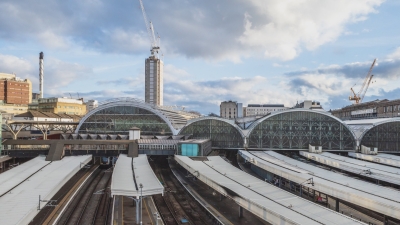 This week, a three-day train strike will cause travel disruption for millions of employees across the country. The strikes, due to take place on 21, 23 and 25 June 2022, will see thousands of rail workers walk out in a dispute over pay and redundancies. A London Underground strike is also planned on 21 June, and disruption is expected on the days between the strikes.
The strikes, which the RMT have described as the "biggest outbreak of industrial action in the UK since 1989", will involve 40,000 workers, and mean those reliant on trains for their commute are highly likely to be unlikely to make it into work. It will also have a huge impact on road traffic, with some ministers calling on a lift to the London congestion charge on the strike days.
How businesses can prepare for rail strikes? 
What if employees are unable to travel to work due to a rail strike?
Employers should try and accommodate all reasonable requests by employees who are making their best efforts to come into work during strikes, including allowing staff to come in late or leave early, and where necessary funding overnight accommodation.
You should not unreasonably discipline employees who are genuinely unable to make it to work or who are late. There are no legal requirements about what businesses must do but thinking outside the box will be a key consideration for critical staff in certain industries. 
Businesses should have a policy for dealing with travel disruptions. In a policy you can make it clear that employees will not be paid if they are not able to get to work and the steps that employees are required to take when faced with travel disruption. This will also reduce the risk of disputes arising between employers and employees.
Companies should speak with staff and agree alternative arrangements. Where this isn't possible, there is the option of enforcing annual leave – with correct notice – or asking staff to use accrued time off in lieu.
Things might get trickier if the disruptions last beyond the planned three days, as getting to work is the responsibility of the employee. However, consider   reviewing more long-term working arrangements. as many businesses will have managed home working arrangements during the pandemic, so this may need to be brought in again in some instances.
What are the legal implications if you can't come into work because of strike action?
While most employers will acknowledge the difficulties the strike will cause employees, some may bring disciplinary action against their staff unable to make it into work. However,  such action could be deemed unreasonable as it is beyond the control of their employees and therefore not a misconduct issue.
If an employee can't get into work because of the rail strikes, but the workplace is open and work is available, then they have no right to be paid for the day. A refusal to attend work in theory could lead to disciplinary action; however, if there is a genuine reason why it is difficult to travel to work, this is an unlikely outcome.
It is generally an employee's responsibility to get to and from work and so if it is not possible the employer is entitled to regard such absence as unauthorised.
Employees whose partners normally use the train but who need a single car to get to work will also be affected if they then cannot get to work so there may be a knock-on effect for normal car users.
Common sense should prevail with employees sharing lifts or being allowed to work from home, if this is possible.
Could the rail strike action lead to staff shortages?
The strike action may well cause employees mental, physical or financial distress on top of the existing cost of living crisis. If the travel disruptions become long-term, businesses could see an influx of resignations. Of course, no one wants to risk losing good key workers so they should look to be reasonably accommodating when it comes to navigating the strikes.