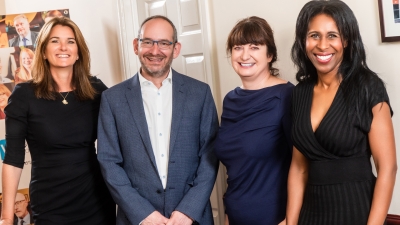 Jonathan Winston, has welcomed the appointment of two new directors amid celebrations of its 20th year of trading.
Teresa Davidson and Harriet Reid will both be working within the family law department alongside family law professional, Wendy Campbell.
Teresa brings with her a wealth of experience to support the delivery of these services, with particular expertise in dealing with complex financial cases arising from divorce, including wealth protection, land and business matters. 
She is also noted for children's issues, including domestic and international childcare arrangements. Chambers UK has previously highlighted her ability in matters involving civil partnerships and unmarried partners. 
Harriet joins as a specialist in the family law field, having over 28 years' experience. She has a wealth of knowledge around divorce and how to advise on resulting financial issues. 
Her experience means she is highly knowledgeable in dealing with complex and substantial finance cases, particularly those involving family businesses and farms and where inherited and preowned assets are in issue. 
Jonathan Winston, managing partner at Winston Solicitors commented: "It is a real pleasure to welcome Teresa and Harriet at such an exciting time. The fact that we are attracting such high-calibre legal professionals shows that we, as a firm, have built a great culture and brand.
"Since setting up the business in 2002, I've built a team that can deliver on our motto of 'When Service Wins' for our clients. For the next stage of our growth, I recognised that the firm needed additional directors who could bring a certain level of expertise and experience. We have found that in Teresa and Harriet." 
Teresa and Harriet's appointments are part of a five-year plan to grow Winston Solicitors from its current head count of 40 people to 60 by 2027.
Winston Solicitors already developed an impressive growth story: having been established by Jonathan from a spare room 20 years ago with just one client to now being known as the go-to firm for businesses and individuals across the UK seeking legal support.
In January 2021, the firm also became a Limited Company, enabling greater investment and supporting its ambitions towards higher end, prestigious recruitment.
Founder Jonathan added: "A lot of legal firms our size move into the city and open additional offices, but we've gone against this and chosen to remain on the edge of the city center, extending the building as we've grown. This way, we have remained at the heart of the local community, with all the additional advantages of easy accessibility and parking for our clients.
"In our five-year plan, the focus is to continue to develop here, out of this one office in Roundhay. We've taken steps to ensure we build the right culture for our current and future team and will continue to invest as we grow."