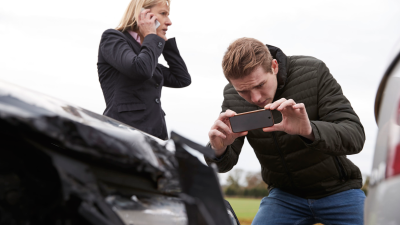 Making a personal injury claim can be a daunting process if you have just been involved in a road traffic accident. There are plenty of myths out there about the claims process so we are setting out to de-mystify the claims process.
November sees the annual Road Safety Week which is a good reminder to drivers about observing speed limits, watching out for other road users and keeping vehicles in a road-worthy condition. Now the clocks have changed and the nights are getting much darker there can often be an increase in road traffic accidents.
10 steps to take if you have been involved in car accident
Should you be unfortunate enough to be involved in a road traffic accident you may suffer personal injury. Here's some useful tips to follow:
1. Details: Make sure you swap the driver details, vehicle registration and insurance details of the person you are involved in the accident with.
2.Evidence: Take photos of the vehicle damage on both vehicles, if appropriate. Also take photos of any damaged items such as clothing or items in a vehicle or on your person.
3. Witnesses:Obtain details of any witnesses to the accident who may assist your claim in case liability is disputed. Ask for their name, address and telephone number.
4. Police: Notify the Police immediately.
5. Medical: Seek medical attention from GP or Hospital immediately or as soon as you can.
6. Legal: Look into the legal process and establish what type of solicitor/representative you want to hire. You may have free legal cover on a policy which would enable you to be allocated a solicitors firm to deal with your claim. You are not obliged to use this allocated firm so check the T&C's. Check you will be dealing with a law firm as opposed to a claims management company.
7. Compensation: Make your claim as soon as possible. The longer you wait the harder it may be to obtain evidence in support of your claim from witnesses or CCTV or dash cam footage. The sooner an insurance company has been notified of a claim the sooner they can start investigating it.
8. Records: Keep records/receipts of all accident related expenses and keep notes of injury effects on daily living. You may have travelling expenses which are undocumented but if you keep a list of journeys which are accident/injury related with the return mileage and postcode details this will allow for calculating and supporting such a claim based on a set petrol/mileage rate. Keep prescription/medical receipts. Original purchase receipts are important for personal items which may be damaged in an accident to confirm their age and price.Wear and tear will be applied to any damaged items when being assessed by insurers.
9. Legal advice: Avoid settling a claim on your own with the insurers when injury is involved. Legal firms dealing with personal injury claims will be aware of what a claim is worth based on medical evidence obtained. Often insurers will try and settle claims directly with claimants without obtaining any medical evidence. This is a risky way to settle a claim as there is no comeback for the claimant once a claim is settled.
10. Understand: Don't sign any forms/documents unless you fully understand them. Always raise any questions with the legal firm you have instructed so you are completely clear on what you are signing and agreeing to.
If you have any questions following a road traffic accident you can speak to our understanding and confidential personal injury team on 0113 320 5000.