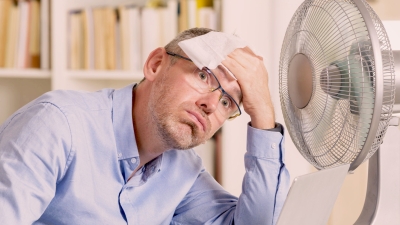 As the UK temperature climbs, experts urge employers to focus on flexible working, relax dress codes and consider those whose jobs are based outdoors.
Workplace temperatures
Experts are calling on employers to monitor their workforce's health as temperatures in the UK are set to reach their highest so far this year. The mercury climbed to more than 34ºC in some parts of the UK on 11 July – just short of the highest ever recorded in the UK, which was 38.7ºC on 25 July 2019.
As such, the Met Office has issued a level three amber heat warning, which will be in place until Monday 18 July. So, with the effects of the heatwave extending to the workplace, what can businesses do to support employees during periods of extreme heat.
Do employees have to work in high temperatures?
There is currently no legal maximum temperature for workplaces, but the Health and Safety Executive has said that companies should ensure staff are working in 'reasonable' temperatures. The TUC, meanwhile, has called on ministers to introduce a maximum working temperature of 30ºC, and 27ºC for those undertaking strenuous activities. 
As it stands, workers do not have the right to leave work because of high temperatures, unless they are ill and have to take sick leave. However, under the Management of Health and Safety Regulations 1999, employers are required to undertake suitable risk assessments, and arguably the temperature of the workplace is one of the potential hazards that employers should consider when doing risk assessments.
To help your stay stay cool and productive, here are some suggestions for office environments during a heat wave:
Relax dress code but please, no vests or flip flops – be sensible!
Regular ice cream breaks!
Consider reduced hours or staggering the working day to avoid the hottest periods if this is possible
Consider allowing staff to work from home to avoid crowded conditions on public transport 
Don't worry, it will not last and usual, cooler and wetter British summer will resume.
And just for fun - how many times have you heard any (or all) of these in the past week?
"I'm not being funny, but we shouldn't have to work when it's this hot"
"What's the legal limit for work? We should absolutely be sent home"
"It's too hot to sleep. How are we supposed to work when we've not slept"
"I know I said I wanted it hot, but this is too hot. My fingers are sticking to the keyboard"