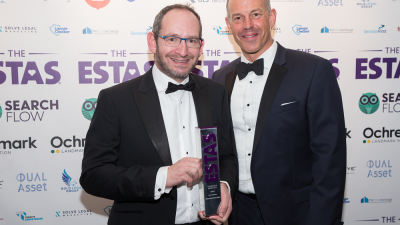 We are delighted to have picked up a highly acclaimed property award at The ESTAS 2019 Conveyancer Awards.
Winston Solicitors were awarded Gold in the regional category at The ESTAS 2019. Phil Spencer presented the award to Jonathan Winston, Managing Partner of Winston Solicitors, at the prestigious award ceremony at Grosvenor House in London. The ESTAS are the biggest awards in the UK conveyancing sector and are exclusively based on feedback from customers who are asked to complete a questionnaire about the service they have received.
The ESTAS determine the best conveyancing firms in the UK through a series of questions that cover client care, service and communication. With a total score of 98.99% for Winston Solicitors it proves that we stand true to our motto of 'When Service Wins'.
With an opportunity to leave comments as well as answering questions, one experienced property client remarked "This is the 8th property I've sold over my life span and it was the best experience of any. Quick, efficient and hassle free. All my queries were dealt with promptly and effectively, so I will be selling my next property with Winston Solicitors."
First time buyers also commented about the ease of their purchase "Leasa and her team are efficient, friendly and knowledgeable. This is the first property I have bought and was worried, as people always say buying a house is stressful, all I can say is what stress? Seamless from beginning to end."
Jonathan Winston said "I was thrilled to be presented with our ESTAS award. The conveyancing team at Winston Solicitors work incredibly hard and always put the needs of their clients first. Knowing it is our clients who have voted for us adds real value in achieving this award. They have experienced our conveyancing service first-hand therefore are the ones most qualified to cast their vote."
The award winning conveyancing team at Winston Solicitors, Roundhay, Leeds